Konstrukteur (m/w/d) Verpackungstechnik in Rosenheim
Rosenheim

Please apply here on "ITbavaria.de" with the "Apply Now" link/button at the top right.

Sie haben ein neues berufliches Ziel? Schlagen Sie mit SII Technologies Ihren Weg ein! Verwirklichen Sie als Konstrukteur (m/w/d) Verpackungstechnik gemeinsam mit uns Technik am Standort Rosenheim.
Aufgaben
Konstruieren von Maschinen und Anlagen in den Bereichen Lebensmitteltechnik, Sondermaschinenbau, Betriebsmittelbau und Anlagenbau
Erstellen von Skizzen und Konstruktionen sowie verantwortliches Freigeben der Stücklisten
Konzipieren von Neukonstruktionen bzw. Überarbeiten vorhandener Konstruktionen bei komplexen und neuartigen Kundensonderwünschen
Technische Schnittstellenfunktion für interne Stellen, Kunden und Lieferanten sowie Entwickler
Fachliches Anweisen und Koordinieren von Zeichnern und Detailkonstrukteuren
Prüfen der Entwicklung im Hinblick auf technische und betriebswirtschaftliche Umsetzbarkeit
Ihr Profil
Abgeschlossenes Studium im Bereich Maschinenbau; alternativ Technikerausbildung mit entsprechender Erfahrung
Konstruktionserfahrung
Gute Kenntnisse in einem CAD-Tool, vorzugsweise Solid Edge
SAP-Kenntnisse wünschenswert
Gute Deutsch- und Englisch-Kenntnisse
Ihre Vorteile
Stärkenorientierte Entwicklungsmöglichkeiten durch Schulungen und Mentoring
Modern ausgestattete Arbeitsplätze mit innovativer Technik
Flexible Arbeitszeiten und leistungsgerechte Vergütung
Vielseitige Angebote und Leistungen (z. B. VWL, bAV, Kinderbetreuungszuschuss, JobRad)
Engagiertes und motiviertes Team in einer offenen und wertschätzenden Unternehmenskultur
SII Technologies GmbH
Mareike Großhauser
Pommernstraße
93073 Neutraubling
Tel:+49 9401 913197-36
Brief profile of SII Technologies GmbH
Die SII Technologies ist Mitglied der SII Group, einem weltweit renommierten Technologiedienstleister mit 8200 Mitarbeitern in 18 Ländern. Mit fünf starken Säulen – Digital Services, Engineering, Systems, Precision Parts, und HR Services – liefert die SII Technologies maßgeschneiderte Lösungen aus einer Hand.

Mit den Besten Technik verwirklichen!
Unsere Kunden zählen weltweit zu den Besten ihrer Branche. Gleichzeitig suchen wir auch die besten Mitarbeiter, die sich mit Leidenschaft und Engagement einbringen. Unsere Unternehmenswerte bestimmen unsere tägliche Arbeit sowie unseren Umgang mit Kollegen, Kunden und Partnern: Flexibilität, Integrität, Dynamik, Effizienz und Sympathie – zusammengefasst FIDES. Dieser lateinische Begriff steht für Zutrauen sowie Vertrauen und bildet das Fundament unserer Werte.
Wir bieten Ihnen vielfältige Entwicklungsmöglichkeiten in einem internationalen Umfeld eines modernen mittelständisch geprägten Unternehmens. Werden Sie #fungenieur und schaffen Sie mit einem Einstieg bei der SII Technologies die besten Voraussetzungen für eine erfolgreiche Karriere.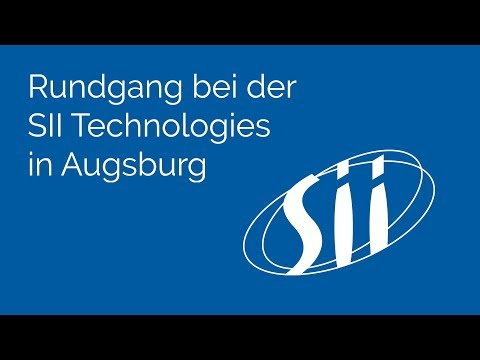 Publication date: 19-12-2019